Certified Snow Blower Spherical Bearing Replacement [Remplacement de palier sphérique de souffleuse à neige Certified]
Technical Bulletin: 190513-140-50-1
This bulletin covers the following models: 100435 (060-3732-6), 100566 (060-3740-6), 100567 (060-3742-2), and 100568 (060-3744-8). Ce bulletin couvre le modèle suivant: 100435 060-3732 Souffleuse à neige de 22 po, 100566 060-3740 Souffleuse à neige de 24 po, 100567 060-3742 Souffleuse à neige de 27 po, 100568 060-3744 Souffleuse à neige de 30 po.
SAFETY PRECAUTIONS/
PRÉCAUTIONS DE SÉCURITÉ
To reduce the risk of injury, the user must read and understand the operator's manual before using this product.

Pour réduire les risques de blessure, l'utilisateur doit lire et comprendre le manuel d'utilisation avant d'utiliser le produit.

DO NOT make any adjustments to the snowblower without first stopping the engine, removing the engine key, and disconnecting the spark plug wire.

NE JAMAIS effectuer d'ajustements sur la souffleuse avant d'avoir arrêté le moteur, retiré la clé du moteur et débranché le fil de la bougie.

Burns from hot parts - let the engine cool for 30 minutes before touching hot parts.

Brûlures causées par des pièces chaudes - laissez le moteur refroidir pendant 30 minutes avant de toucher à nouveau les pièces.

Injury from moving parts - this machine may pick up and throw objects which can cause serious personal injury. Keep bystanders at a safe distance.

Blessures causées par des pièces mobiles - Cet appareil peut soulever et projeter des objets susceptibles de causer des blessures graves. S'il vous plaît garder tous les spectateurs à une distance de sécurité.

To reduce the possibility of fire or explosion, be careful when working around gasoline. Keep cigarettes, sparks, and flames away from all fuel-related parts.

Pour réduire le risque d'incendie ou d'explosion, soyez prudent lorsque vous travaillez à proximité d'essence. Gardez les cigarettes, les étincelles et les flammes à l'écart des pièces liées au carburant.

DO NOT run the engine with the belt guard removed. NE PAS faire fonctionner le moteur avec le protège-courroie retiré.
Tools Needed/
Outils nécessaires
: Ratchet, extension, sockets (size 10mm, 12mm and 13mm), Adjustable wrench, needle nose pliers, size 3mm Hex bit with bit holder driver, elastic band.
Clé à cliquet avec extension, douilles 10mm, 12mm et 13mm, clé à molette, pince à bec effilé, embout hexagonal 3 mm avec porte-douille, bande élastique.
Remove the plastic belt cover on the front of the engine by removing the two M6 x 16 bolts with a 10 mm socket.

Retirez le couvercle de la courroie en plastique à l'avant du moteur en retirant deux boulons M6 × 16 avec une douille 10mm.

Pull out the R-Pin and then remove the lever.

Tirez le R-PIN, puis retirez le levier.

Unscrew the nut of the auger control wire.

Dévisser l'écrou du fil de commande de la tarière.

Remove the #1 bolt (20 mm/ 30 mm) holding the belt guard with the 12 mm socket and loosen the #2 bolt. Note the spring is loose at this point. Be careful not to lose the fitted spacer washer (#3).

Retirez le boulon #1 (20 mm / 30 mm) maintenant le protège-courroie avec une douille de 12 mm et desserrez le boulon #2. Notez que le ressort est lâche à ce stade. Veillez à ne pas perdre la rondelle entretoise ajustée (#3).

Unscrew and remove the 6 x M8 nuts to separate the auger housing from the base with the 12 mm socket. (Image shows the top pulley removed.)

Dévissez et enlever les 6 x écrous M8 pour séparer le logement de la vis de la base avec la douille 1 2mm. (photo montrant la poulie supérieure enlevée.)

Loosen the M8 flange locking nut on the belt guard with a 12 mm socket, and push the tension wheel and lever to remove the belt as shown with the arrows.

Desserrez l'écrou de blocage de la bride M8 avec une douille 12mm sur le protège-courroie et poussez la molette de tension et le levier tel que montré, pour retirer la courroie.

Slip the auger belt off the pulley. Remove and replace the belt in reverse order, ensuring that the new belt is below the spring-loaded idler pulley. Lose the 6 x M8 x 16 flange bolts with the 12 mm socket (three on each side of the big housing assembly) holding the worm gear box assembly.

Glissez la courroie de la tarière de la poulie. Retirez et remplacez la courroie dans l'ordre inverse en veillant à ce que la nouvelle courroie soit en dessous de la poulie de tension à ressort. Desserrez 6 x boulons à bride M8 x 16 avec la douille 12mm (3 de chaque côté du grand boîtier) maintenant l'ensemble de la boîte à engrenages à vis sans fin.

Unscrew the center M8 x 25 hexagon bolt on the big triangle pulley with a 13 mm socket and remove it. Be careful not to lose the 6 x 6 x 15 flat key. Once removed, unscrew the 3 x M8 flange bolts with a 12 mm socket holding the pressing plate bearing in place.

Dévissez le boulon hexagonal central M8 x 25 de la grande poulie triangle avec une douille 13mm et retirez-le. Veillez à ne pas perdre la clé plate 6 x 6 x 15. Une fois retirés, dévisser les 3 boulons M8 avec une douille 12mm et enlever la plaque de pression en place.

Remove the existing spherical bearing and replace it with a new spherical bearing with the set of screws and pressing plate.

Retirez le roulement sphérique existant et remplacez-le par un nouveau roulement sphérique avec des vis de réglage et une plaque de pression.

While pushing in on the worm gear box assembly from the front, tighten the 6 x M8 x 16 flange bolts (three on each side) of the big housing assembly. Tighten the set screws on the spherical bearing with the 3 mm hex bit and replace the pressing plate.

Tout en poussant sur la boîte d'engrenage à vis sans fin par l'avant, serrez les 6 boulons à bride M8 x 16 (3 de chaque côté) du grand boîtier, serrez les deux vis de réglage sur le palier sphérique avec l'embout hexagonal de 3mm et remplacez la plaque de pression.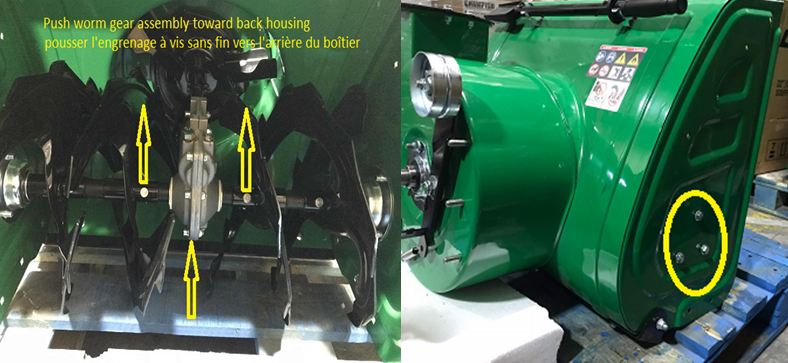 Replace the big triangle pulley center bolt with the 12 mm socket and belt. (Use a rubber band to secure the auger belt in place for assembly.)

Remplacez le boulon central de la grande poulie triangulaire avec une douille de 13 mm et remplacez la courroie [utilisez un élastique pour fixer la courroie de la tarière en place pour l'assemblage.

Reassemble the unit by following the instructions in reverse order from steps five to one.

Réassemblez l'unité en suivant les instructions dans l'ordre inverse des étapes 5 à 1.
---
---